NE India Launchpad 1.0:
NE India Launchpad, organized by KIIT-TBI and supported by MeitY, GoI under the TIDE 2.0 scheme, and BIRAC-supported KIIT TBI Bio-NEST BRTC Centre, is a highly successful acceleration program designed to expedite the innovation journey of startups and innovators from Northeast India. In the previous NE Launchpad 1.0, over 15 promising young innovators/startups received comprehensive mentoring support during the 45-day program. The program empowered participants with invaluable knowledge, and several entrepreneurs secured subsequent funding through government grants and fellowships. Notable examples include Mr. Nilotpal Baruah, who obtained the BIRAC BIG NE grant, Dr. General Thiyam, who received the BIRAC BIG grant, and Dr. Chandralekha Ayekpam, who was awarded the BIRAC SPARSH SIIP fellowship.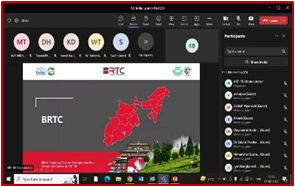 NE India Launchpad 2.0:
The NE Launchpad 2.0, supported by MeitY TIDE 2.0 and in collaboration with Manipur Technology Innovation Hub (MTI-Hub) and BIRAC-BRTC, received an overwhelming response with 93 applicants. A cohort of 60 startups participated in the two-week Acceleration Program from 1st to 15th February 2023, followed by a successful Pitch Day on 10th and 11th March 2023. The selected 17 startups now benefit from one year of pro-bono incubation support, including prototyping facilities, mentorship, company formation assistance, IP guidance, grant writing support, and more.